The farmers in Marathwada are not having good financial condition and now since past few years the region is regularly going through drought situation. This is adding up to their difficulties. With all this already in place, if unfortunately they caught in to any accidents or tragedy then it's very tough for them to survive through it. Ofcourse there are Government schemes are in place, but in addition to lengthy documentation and approval process there are several reasons for which farmers do not receive immediate financial aid. Even if they fulfill all required criteria and needed documentation, it is very tough for them to make it pass through local government authorities - not always but most of the times. Therefore, Aadharwad Foundation offers best possible financial aid to farmers, labors and other poor families who has been victim of any tragedy.
Shri. Ankush Wagh, a poor farmer from village Shristi Wahegaon lost his house in a fire tragedy on 27th Jun 2016. The fire was intense that they lost their cloth, utensils as well as all food grains stored at home. After survey local Government officials offered him few hundreds as as compensation, but it was not enough at all. Their villagers approached Aadharwad Foundation asking for financial help and then immediately Rs. 20,000/- provided to that farmer, right at his door. It has helped him to survive somehow and feed his family at least for next few days, until he managed to borrow some money from his relatives.
Shri. Kishan Hiwale (Age 70) from a small village Dolhara in Partur taluka, lost his house in an heavy rain and since then he was staying beside the wall of an Grampachayat complex building, having just few utensils and a self made blanket. In Oct 2014 it came in to our notice and then within next few days we rebuilt his house.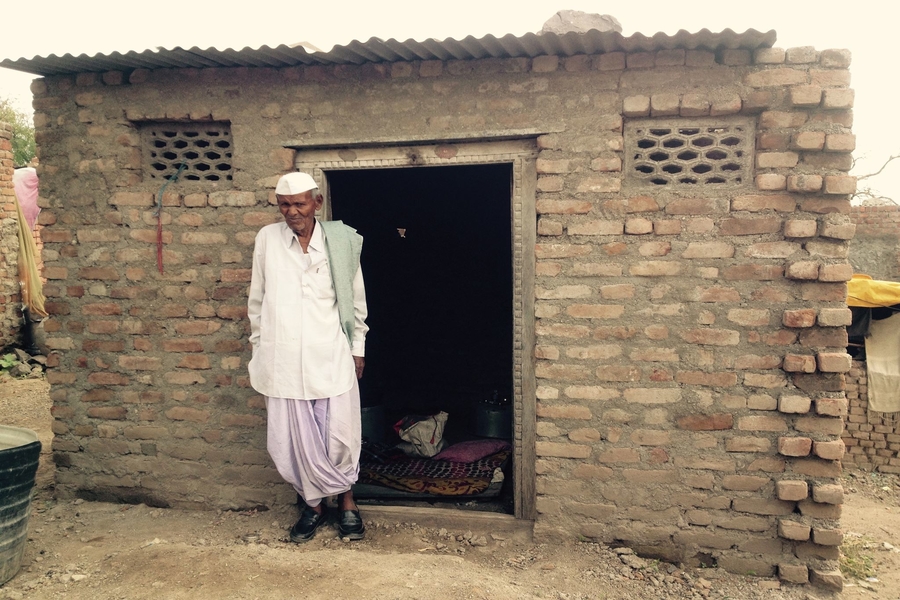 In March 2018 we built a house for 4 destitute kids (Ganesh, Gorakh, Manisha, Mangal) living there in a small village Borranjani (Tq. Ghansawangi Dist. Jalna). Their father had been sentenced to be in prison (at Nashik Central Jail) for causing death of his own wife (children's mother!). They didn't had a basic shelter on their head; and were living in a worst condition that we could ever imagine. But now they have their own home, and being provided with educational aid as well.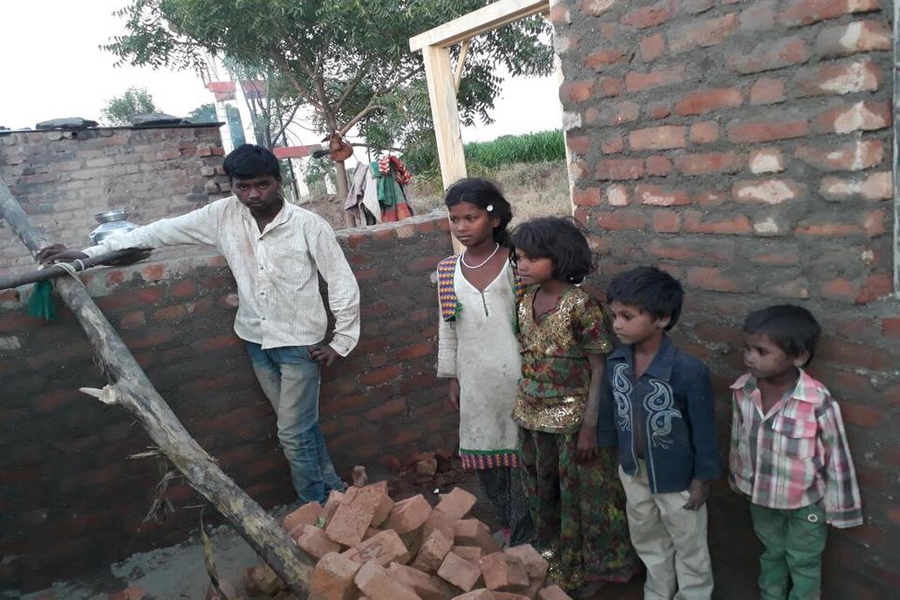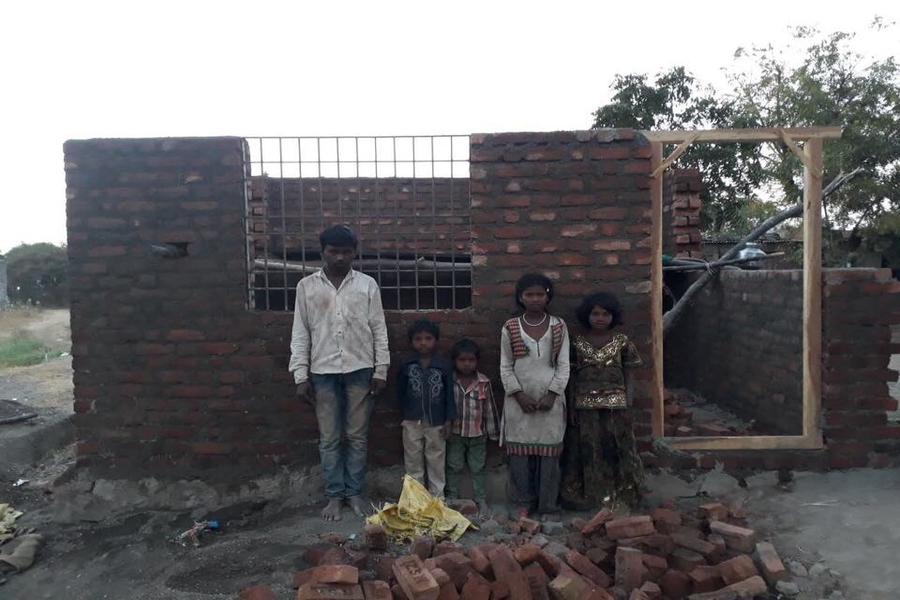 On Friday 8th March 2019, we extended helping hand to a street beggar family wherein all 6 members are visually impaired. Although they don't have eyesight, but God has gifted them very good singing and musical skills. Knowing that, we have provided them with musical accessories with which they can enrich their own musical skills and present that in a better way to earn their own food, instead of begging for it. We hope that our little efforts will give them an opportunity to live life with self esteem.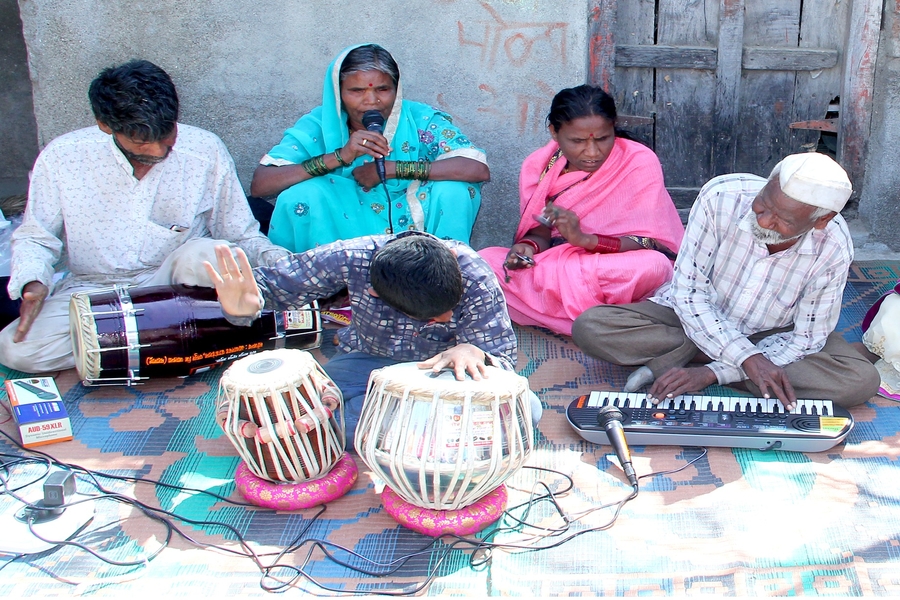 Sitaram Mujmule (Jalna) burnt himself and ended his own life in November 2019. He took this step due to financial crises. Later Sitaram's family disowned his wife Sangita and she has to go back to his parents along with her 3 small children. With that she managed to survive but Sangita was not happy for being dependent on old aged parents. In meanwhile from somewhere she heard about Aadharwad Foundation and she approached us with request to help for rehabilitation. On 15th October she has been given a Wheat Floor Mill with which now she is working from home and earning to fulfill daily needs of herself and children.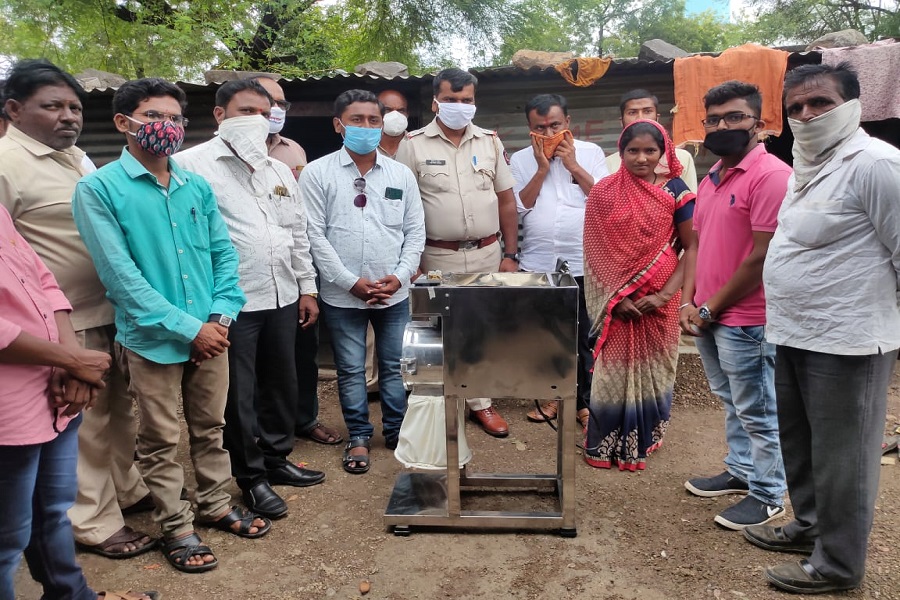 Benefited Families
| Sr. No. | Name | Address | Tragedy/Accident | Visit Date | Financial Aid |
| --- | --- | --- | --- | --- | --- |
| 1 | Ankush Wagh | Shristi Wahegaon, Tq. Partur, Jalna | House destroyed in fire tragedy. | 29/07/2016 | Rs. 20,000/- |
| 2 | Govind Hiwale | Dolhara, Tq. Partur, Jalna | House collapsed in heavy rainfall. | 16/10/2014 | Rs. 25,000/- |
| 3 | Panjage Family | Borranjani, Tq. Ghansavangi, Jalna | They did not had their own house. Their father is in Jail. | 22/11/2017 | Rs. 85,000/- |
| 4 | Kshirsagar Family | Sakshal Pimpri, Tq. Georai, Beed | All 6 people in family are visually impaired. | 08/03/2019 | Rs. 24,330/- |
| 5 | Ganesh & Mukund Raut | Golegao, Tq. Partur, Jalna | House destroyed in fire tragedy. | 03/08/2019 | Rs. 20,000/- |
| 6 | Sangita Sitaram Mujmule | Loni, Tq. Partur, Jalna | Husband committed suicide due to financial crises | 15/10/2020 | Rs. 19,200/- |