We strongly believe that if children are given good primary education and enough opportunities, they can figure out their own way to a brighter future. It hurts deeply to realize that there are many school drop outs in rural area, especially in farmer families, in spite of the fact that seeking education is a fundamental right. While we cannot possibly solve all issues, we can at least help some of them with financing, resources and counseling. The idea was pioneered in 2004 itself when we were pursuing our degree, but we commenced our activities in 2007, having ourselves as sponsors as well as volunteers, with a name Kartavya.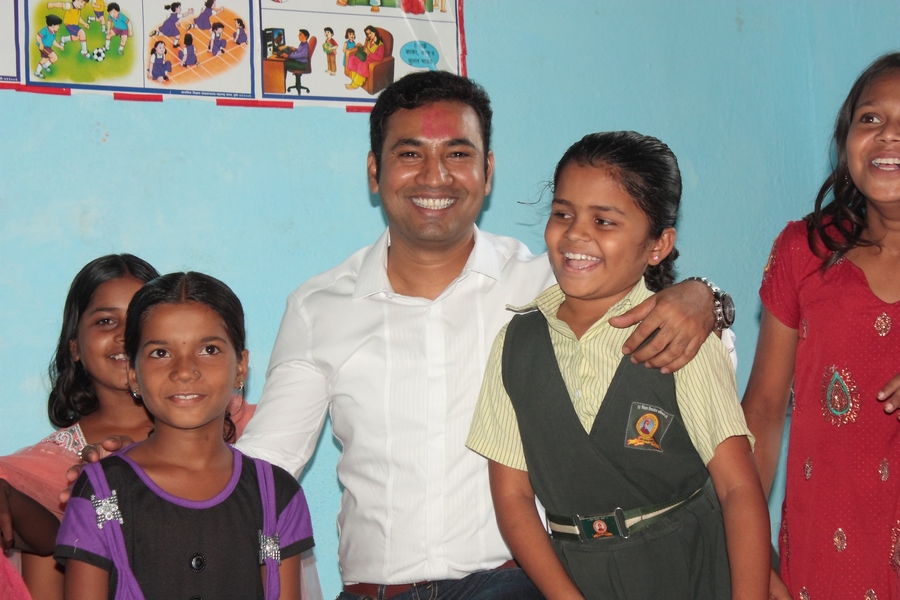 In year 2007, we started with a very limited number of students so as to have better control over the activity. Rather than direct monetary assistance, we opted providing them all school necessities. Starting with just 11 students, today we are supporting around 200 students from all over Marathwada region. This number considerably includes children from deceased farmer's families and other orphan kids as well as single parent (widow's) kids.
To ensure that while working for farmers we do not lose our focus on original educational aid and also the funds donated for educational cause should be utilized for that specific purpose only, we decided to retain Kartavya as a independent entity and having separate managing committee. For that thoughful reason, the Kartavya has been registered separately under Society Registration Act 1860 - Reg. No. Maha-288/15.
How do we select students?
Every year in the month of May we issue applications forms for students (available at free of cost) around the region to apply for this educational aid. They need to submit these application forms filled with their personal details like 'Are you a deceased farmer's child?', 'Do you have your parents alive?', 'Are you physically challenged?', 'How much land/property your parents hold?', 'What was Grade/Score in previous academic year?' etc. along with supporting documents. By the end of Jun, all those received applications goes through a predefined selection process - regardless of their cast, religion or region. We have senior school teachers working with us as our volunteers and they are the key decision makers in this selection process.
We give preference to children from a deceased farmer's family and orphan kids.
What do we provide them?
We provide them everything and in enough quantity required for an academic year, taking in to consideration their standard/class of education. A standard set includes Academic Books, Notebooks, School Bag, School Uniform, Shoes, Socks, Exam pad, Geometry box, Ball pen, English dictionary etc. In addition to this standard set above mentioned, we do provide them books for competitive exams of Navoday Vidyalaya and Scholarship.
In some exceptional cases, we do provide them financial support as well, for paying the college admission fees, exam fees or accommodation expenditures. This higher education financial support program is led by Aadharwad Foundation.
Higher Education Aid
These days it is very diificult to go for higher education due to increased fees and other living expenditures. The students from poor damilies, especially farmer and workers famlies, can not afford these expenses and that is the sole reason many brilliant students are unable to pursue their (and their parent's) dreams. We know that we can not help everyone, but we continue to support few selective students by providing them immediate financial aid for paying their admisison and/or college fees.
| Sr. No. | Name | Address | Reason | Date | Financial Aid |
| --- | --- | --- | --- | --- | --- |
| 1 | Shubham Dhondiram Dewane | Partur Tq. Partur | Admission Fees - Mechanical Engineering | Jun 2014 | Rs. 30,000/- |
| 2 | Akshay Kanade | Beed Tq. Beed | Admission Fees - Engineering | July 2015 | Rs. 88,000/- |
| 3 | Ganesh Kailash Deshmane | Watur Tq. Mantha | Admission Fees - Diploma in Pharmacy | November 2015 | Rs. 10,000/- |
| 4 | Seema Sakharam Sawant | Gosavi Pangari Tq. Mantha | Coaching clases fees - UPSC at Delhi | September 2016 | Rs. 25,000/- |
| 5 | Ashwini Rohidas Shinde | Ashti Tq. Partur | College Fees and Accomodation - B. Sc. | July 2017 | Rs. 30,000/- |
| 6 | Shivani Sakharam Bhutekar | Jalna Tq. Jalna | College Fess - Bachalor Degree B.H.M.S. | 2018 - 2022 | Rs. 50,000/- * |
| 7 | Ashatai Baburao Bhurke | Bhurkyachi Wadi Tq. Kalamnuri | College Fees - Bachalor Degree M.B.B.S. | 2019 - 2023 | Rs. 50,000/- * |
| 8 | Karthik Ganpat Shirade | Bhurkyachi Wadi Tq. Kalamnuri | College Fees - Bachalor Degree M.B.B.S. | 2019 - 2023 | Rs. 32,795/- * |
| 9 | Priti Pandurang Sawane | Daithana Tq. Partur | College Fees - Diploma in Pharmacy | 2019 - 2021 | Rs. 43,500/- |
| 10 | Pratiksha Kalyan Munde | Dahifal Tq. Kaij | College Fees - B.Sc. Nursing | 2021 - 2023 | Rs. 10,000/- * |
| 11 | Priti Sundarrao Kothale | Pimpli Dhamangaon, Tq. Partur | College Fees - Dimploma in Pharmacy | 2021 - 2023 | Rs. 38,874/- * |
| 12 | Pavan Prakash Dhavale | Soyanjana, Tq. Partur | Admission Fees - B.Sc. Agri | 2022 - 2026 | Rs. 15,672/- * |
| 13 | Rahul Kishor Satpute | Dahifal Bhongane, Tq. Partur | College Fees - Diploma in Mechanical Engineering | 2022 - 2023 | Rs. 10,000/- * |
| 14 | Amol Ganeshrao Shinde | Golegaon, Tq. Partur | College Fees - Bachalor Degree M.B.B.S. | 2022 - 2026 | Rs. 17,690/- * |
Note: * It represents ongoing aid until completion of their course of education.
Success stories
Since 2007 until 2021, in last 16 years we have provided total 1790 educational kits and many of them have created their own success stories.

Mr. Rahul Bhokare, son of a roadside vegetable seller from Partur has successfully completed his bachalor's degree in Electronics Engineering from G.H. Raisoni of College at Nagpur and have been placed in a multinational software company Tata Consultancy Services.

Mr. Krushna Chikhale, son of a goatkeeper from village Dolhara Tq. Partur has completed B.Sc. in Pharmamedical Technology (Nurology) and currently working as part of Dr. D. Y. Patil Medical College, Hospital & Research Centre at Pune.

Mr. Shubham Dewane, son of road side tea stall owner from Partur has completed Production Engineering and placed in Abhijay Auto Parts Pvt Ltd. at Aurangaabd.
Miss. Komal Lahane, daughter of a farmer (Village Bhardi Tq. Ghansawangi) who have committed suicide in 2014, have successfully pursued her diploma with specialization in Mechanical from Government college of Polytechnic Ambad Dist. Jalna this year 2017.

Miss Priti Sawane, a visually impaired girl of a farmer from a small village Diathana have successfully completed her Diploma in Pharmacy from Nanaded in Sep 2021.
CONTRIBUTION
Aadharwad Foundation has a strong volunteer team including highly well educated people like Engineer, Doctor, Teacher and young social workers at local sites. All these people have volunteered selflessly and tirelessly for success of this initiative.
This initiative is completely based on public donations. The people from IT and Software Industry, from within as well as outside of India are our prominent fund contributors.
The Government officers in our region have always helped this initiative in various ways, including motivations and guidance.
The local print media have been very cooperative with us for this initiative. They made it to possible for us to reach up to the larger audience, and surely seeing that many people thought to support us. We are very thankful to सकाळ,दिव्य मराठी,आनंद नगरी,पुण्य नगरी,पुढारी news papers for this cooperation.
(Visit Press & Media)